Wedding on the Water in Vancouver, British Columbia
Greetings,
My friend got married yesterday on a day that could only be described as pleasant or perfect, I dare say. It was one of those days where the sun was out in full force with no remorse, the sky was a brilliant shade of blue and if there were a few curious clouds, they were kept behind the curtains. You could walk around in a suit with a smile under the sun without sweating yet it still wasn't cold when the sun finally set on this special setting, sweet.
Almost missed such occasion or at least thought I did in a typical "Lackadaisical Last Minute Lloyd" like maneuver… Ever get ready to go somewhere and realize you could have left 5 minutes earlier all for your cab to pull a no show as sweat starts to collect under your collar as you flirt with a cardiac arrest? It happens, trust me. Luckily I had a magical cab driver whose name eludes me that liked to laugh, eat liquorice and simply could not hit a red light if his life depended on it! One of those "it's not over until it's over" moments that come up all too often for many of us.
The ceremony took place on the water, talk about a risky play that paid off. The weather was splendid and it all flowed, had it rained it would have been different. In English Bay there were stellar views of downtown Vancouver and the bay was busy to say the least with countless styles and sizes of sea worthy vessels. Not long after the ceremony took place and my friends had officially joined the growing crew of married couples, it was time to let loose aka one of my favorite things about a wedding.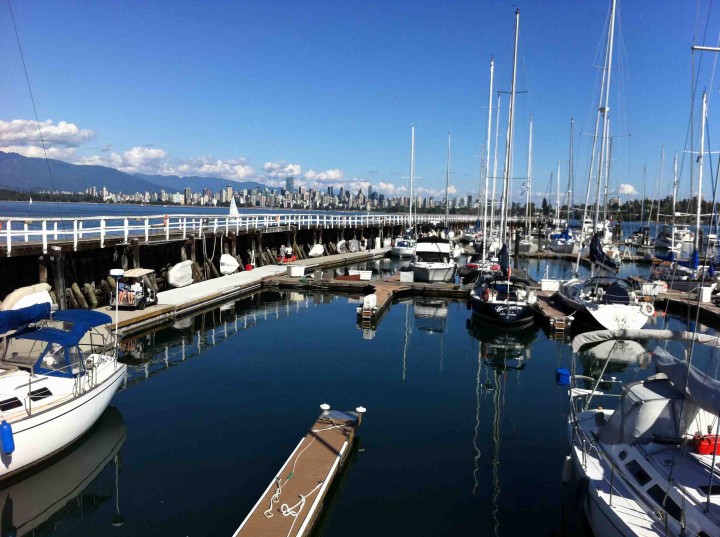 What's interesting is that you can go out on 000′s of nights in your life but there are few that have a certain significance and a setup that will forever be engrained in your mind as classic times. Time just flies in the grander scheme of things and regardless of what we think, all our lives are not much longer than a single blink. If you stop and think, weddings and the like are part of those special occasions you'll always remember. A few years ago seemed as though my first friend dove off the deep end blindfolded, now everybody seems to be doing synchronized swimming with their significant other.
Something I like a lot about weddings besides an open bar is that most of the characters you meet are cool. If you think about it and really break it down, you're getting invited because part of your personality and that of the groom or bride are similar and that's why you became friends and still are. The same applies to all the guests so it's usually one of those things where you enjoy the day, catch up with old friends and meet new ones from the cast of characters with a similar style that have come from all corners.
In closing I'd like to add that having a candy bar is a terrific and terrible idea wrapped into one but am thankful for it no less. My teeth hurt as my heart palpitated at about 10pm and I was curious why I felt so low, feeble and frail. I was well hydrated on wine and spirits but something was off. That's when I realized I was crashing hard from a sugar high / binge that started before dinner and fueled primarily by the ever so sour keys and the like. The only reasonable thing to do was get back on the junk and ride the rest of the night out like a 3rd grader hallucinating on Halloween.
Afterward, all hopped up on junk food we rolled to a friends place to ride out the rest of the buzz, GOOD TIMES.
Tips hat,