Partying in Dublin, Ireland on a Weekend
Greetings,
I'm writing this from my bed at the Conrad Dublin which feels like the perfect place right now. It's a stones throw from the madness of Camden Street but far enough away for a gent like myself to get a bit of sleep. I ordered a late checkout as any relatively intelligent character would when going deep on a night out partying in Dublin but soon I must leave. We're going to discuss last night and a bit of what has transpired over the last week in this fun city. People from all over Europe come here for a wild weekend and I fully understand why.
The conference was good times and perhaps I'll write about it later. This story starts late yesterday when I was wandering around the streets without anywhere to stay. Long story short, hard to get reasonably priced accommodation here on a Saturday night as people from all over the country and continent come to get crazy, if only for a weekend. I went from thinking of sleeping on the streets(not really) to sleeping in this suite and I'm quite alright with that. I linked up with a friend of mine who moonlights as a DJ and some of his local friends.
We rolled into The Grafton Lounge and I really loved it, I think you would too. Before we go any further, I must mention that if you're married you may want to avoid this city unless your partner likes to party. If they don't, you'll spend lots of money on consulting services after you get an idea of how many interesting characters are out there and in full effect. Grafton Lounge was packed with beautiful ladies and the music was easy electronic. We left pretty early but can only imagine how it was end of the night; some other time.
From there we made our way to 4 Dame Lane as one of the gents was DJing there and it went off. The set was solid and the whole street around there was going mad. Having skipped dinner I ducked out and found my way into a fish and chip spot, priceless. This bar had a slick ground floor and a club with another DJ on the second floor. I really love the small lanes that open up into expansive night clubs where most are dressed to impress.
From there it was back to The Odeon. I say back to The Odeon as I had the pleasure of perusing that spot earlier in the week with the conference I attended. It's a rather swank place with red velvet everywhere or at least it sure looked like it. I just can't get over how packed the streets were and everyone seemed to be having a good time. I did see a few confrontations here and there throughout my time but nothing major and if you maintain "international rules of engagement" which are don't be a degenerate and keep to yourself when around unruly mobs, you should be good to go.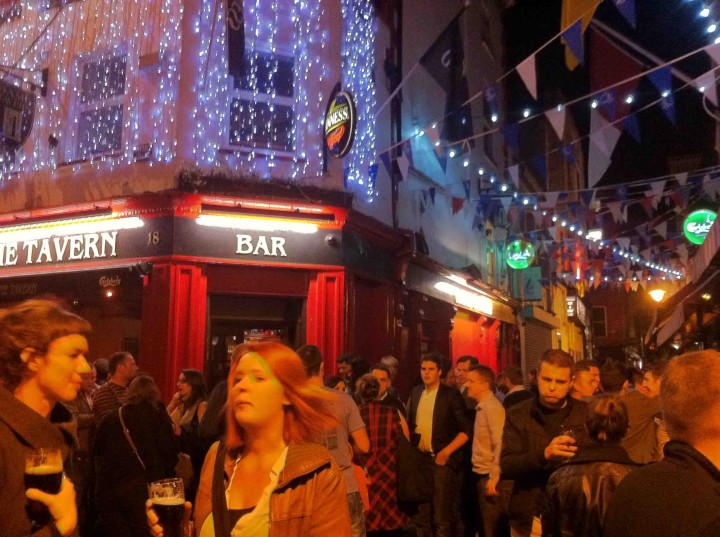 Guinness is sorta the official drink for those into hops and if you say give me a pint please, good sir you'll just end up with one. I'm curious if you can even get hung over on Guinness because each pint is like eating a loaf of bread so if you drank 7 of them you'd in theory have eaten 7 loafs of bread and we can all do the math on that one. I'd like to stay in Dublin longer but I think it's time to leave before my liver becomes diseased.
I did a bit of touring around the city but besides yesterday the weather has been dark and rainy. These photos are from a scattered mission throughout the city last night. While in the city I also had the pleasure of attending 37 Dawson Street, Whelan's and The Church. The Church was basically an old church turned into a bar. These fine honorable and downright spiritual people gave all the travel writers from out of town a whopping 75% off discount which I'm sure you can understand was much appreciated. Ever turn 50E into 200E just like that?
I'd go on but I need to leave today and not sure if I'm going to Galway or Belfast… Either way gotta bounce.
Tips hat,